Gender Inclusive Housing (GIH) is a community where we remove traditional gender restrictions, and permit students to live 'co-ed'. You can pull in up to 6 people depending on the location, and assign your friends to any suite, townhouse or apartment.
To indicate your interest in the gender inclusive community, you need to fill out the Gender Inclusive Housing Interest Form online by Sunday, February 13, 2022.
When selecting, rooms will be marked GIH so you can identify them (as displayed below). We will attempt to make spaces available in as many buildings and room types as possible, depending on the number of students who sign up. In addition, you have the option to mix genders within a double room if you desire.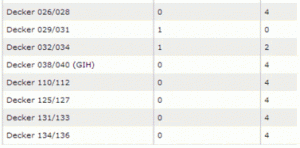 Within the community, residents will be provided opportunities to reflect upon their views regarding social issues, politics, spirituality and sexuality. Students of the community – apartment, townhouse, suite, or room – will be responsible for any rules or regulations around room, bath, or common area spaces. If vacancies exist in the community, they may be filled by another resident at any time.  All behavioral expectations and regulations are applicable to Gender Inclusive Housing.