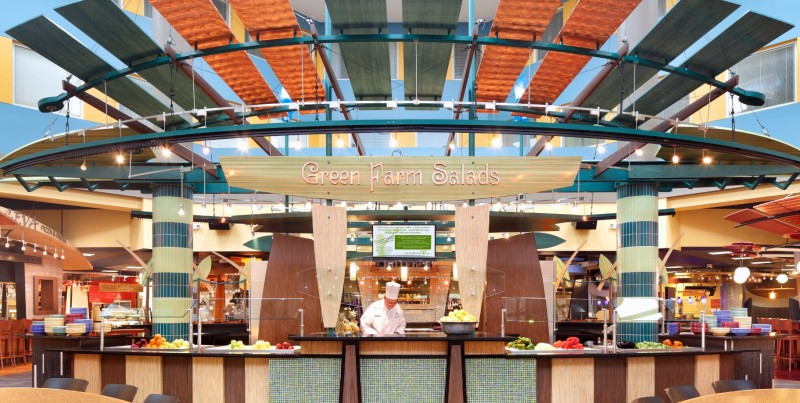 Green Farm Salads in The Atrium at Eickhoff
Residential Meal Plans
As defined in the Annual Residence Hall and Dining Service Contract, a meal plan is required for all residential students at The College of New Jersey. For additional information on meal plan balances and usage guidelines, visit TCNJ Dining's page.
The general timeline for meal plans to be changed is from the start of room selection in late February/early March through early July for the fall semester and from late October to early December for the spring semester. Specific dates for meal plan changes are advertised through e-mail and on the housing website.
For additional information on meal plan guidelines or the change process, see the sections below.
---
Meal Plan Guidelines
Students who do not pick a meal plan for the fall semester will be automatically assigned 15 Meal per Week by Residential Education and Housing.


Students may select a different meal plan for the spring.  If a new meal plan is not selected for the spring, the student will retain the same meal plan from the fall.

In the rare circumstance where a student has a spring assignment, no fall or spring meal plan, and does not log on to change/pick a meal plan for the spring semester, the student will be assigned 15 Meals per Week.

The Apartment Plan is only available to juniors and seniors living in Phelps and Hausedoerffer.  Residents who select this plan but do not meet the criteria will have their meal plan changed.  In this instance, residents would be given the same meal plan from the fall semester for the spring.
Full details as to which meal plans are available to students can be seen by logging on to My Housing and accessing the meal plan step.
---
How to Change Your Meal Plan
Log onto My Housing.
Select your application for the current academic year.
Click on Selecting a Meal Plan from the steps at the top of the page.
Select the meal plan you would like from the drop down menu.  Please be careful if you use the scroll on your mouse this will change the selection on the drop down menu unless you click on the page outside of the drop down menu.
Click "Save & Continue".
You will be taken to the Application Status page that will show the meal plan you selected. You will also receive an e-mail confirmation that your meal plan has been changed.  We recommend saving this e-mail for your records.
If the Fall or Spring bill has already been posted you will no longer be able to change your Meal Plan in MyHousing and have until the first Wednesday after that semester starts to email our department at housing@tcnj.edu asking to change your Meal Plan.  No Meal Plans will be changed after the set deadline for each semester.
If you are a non-residential student and are interested in purchasing a meal plan, please see the TCNJ Dining website for details on their Block Plans or sign up for a Commuter meal plan my logging in to My Housing.  Please note that the Block meal plan and Meals per Week plans are different from one another in usage, set-up, and cost.
Please do not hesitate to call our office at (609) 771-2301 or e-mail us at housing@tcnj.edu with any questions or concerns that you may have.
---
Meal Plan Modification
If any students have a change in their circumstances after the signing of the Annual Residence Hall and Dining Contract, a Meal Plan Modification may be requested. Meal Plan Modifications can be requested due to documented disabilities, chronic medical conditions, food allergies, or religious beliefs. In addition to the request form, additional documentation will be required. If students would like to discuss the process and their case, a meeting can be scheduled with the Meal Plan Modification team to do so upon completion and submission of the Meal Plan Modification Form.
All decisions are granted on a case-by-case basis for spring 2021 only.